Matcha is a powdered Japanese green tea and is known as the superfood among superfoods, it contains 10 times more antioxidants than regular green tea and gives you an increased concentration.
 
Antioxidants in Matcha
Matcha is a powerfood. It helps to lower your stress levels, increases mental clarity, promotes better learning, is anti-aging and improves metabolism.
One cup of matcha contains as much antioxidants as 10 cups of "normal" green tea. Antioxidants will include anti-aging, ensure that your skin remains in good condition, reduce the risk of cardiovascular disease and have a cholesterol lowering effect.
The graph shows the antioxidant activity of matcha and a number of well-known antioxidant-rich food.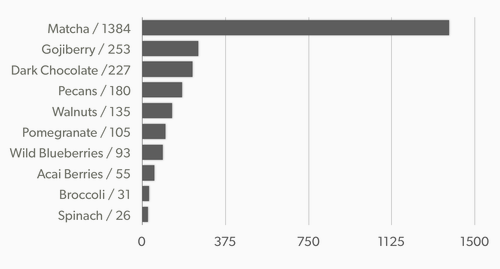 Source: Journal of Agriculture and Food Chemistry, lipophillic and hydrophillic Antioxidant Capacities of Common Foods (USA).
 
Matcha energizes and soothes
After drinking a cup of matcha green tea you experience an increased clarity and concentration. A cup of this green tea contains about a quarter of the caffeine in a cup of coffee, the effect of this caffeine will be more plaesant and remain longer. You get extra energy and better concentration and at the same time you feel much calmer.

Umami
Matcha tea powder taste is unique and is called umami. Umami is the fifth flavor, alongside sweet, sour, salty and bitter. Umami means "delicious" and is best described as a pleasant savory full flavor. We think it's a combination of spinach and avocado. Only good quality matcha has the taste and sometimes stays up to 1 hour after consuming a cup of tea. Our matcha sets standards worldwide with its unique umami taste.
From Eisai to Gwyneth Palthrow
In 1191, the Zen master Eisai brought the phenomenon of green powdered tea from China to Japan. Matcha was long known as the "secret medicine" at the court of the emperor and the elite. In the 16th century another Zen master gave the history of tea in Japan a boost: Sen-no-Rikyu created the tea ceremony, where matcha plays the leading role. The Samourai refined this matcha tea ceremony and today drinking matcha is an essential part of Japanese culture. The unique flavor and properties of matcha are also discovered outside of Japan. Lady Gaga and Gwyneth Paltrow are two celebrities drinking matcha.